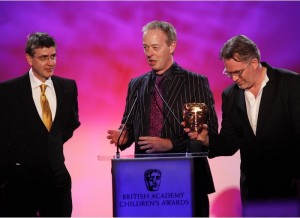 (Mark Baker, Phil Davis and Neville Astley winning the Children's Bafta for Best Pre-School animation)
What gave you the idea for Peppa Pig? Joseph age 6
Phil Davis: Mark & Nev came up with the idea
Neville Astley: We liked the idea of a character that snorted….Hmm which animal? ….A Pig!
Mark Baker: ………And an animal that loves mud….
How old is Peppa? – Hag age 7
Phil Davis: 4
Neville Astley: 4
Mark Baker: 4
What colour are your socks? Calista age 4
Phil Davis: Mine are Black and White Stripes
Neville Astley: I don't have socks. I just paint my feet a different colour each day….Today…Blue with Red spots
Mark Baker: Black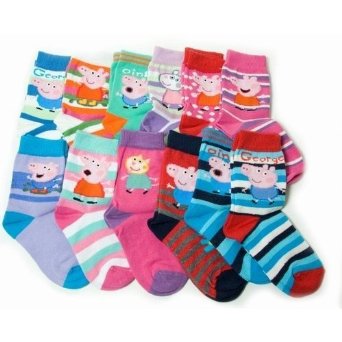 Do you plan to make any episodes of Peppa Pig with Gaston in? Joe age 7
Phil Davis: OK..That plots a bit too strange
Neville Astley: Peppa and Gaston have never met ….But have spoken on the phone.
Mark Baker: Good idea!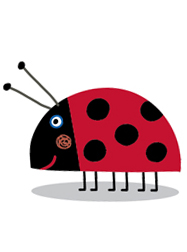 (Gaston the Lady bird from Ben and Holly's Little Kingdom)
How long does it take to make an episode? Freddie age 7
Phil Davis: About 3 months
Neville Astley: It takes 3 people 2 weeks to animate the episode, but there's lots to do before and after like recording voices and Music
Mark Baker: Yes, it takes a lot longer than 5 minutes……
Where do you get your ideas from or inspiration? Bethany age 10
Phil Davis: Jimi Hendrix!
Neville Astley: From what our friends and families get up to!
Mark Baker: Yes, all the ideas come from things that have really happened to us or people we know!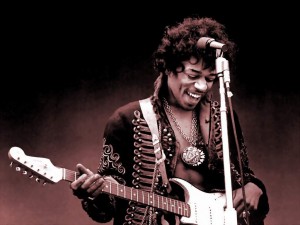 (Rock Legend Jimi Hendrix)
Where did you get all the names from? Alex age 6
Phil Davis: Mark & Nev came up with the names.
Neville Astley: Peppa's name came from a Chilli Pepper that is a bit fiery and Red
Mark Baker: The names all come from friends
Who is your favourite pig? Lawrence age 3
Phil Davis: Pedro Pony!
Neville Astley: Favourite Pig – George
Favourite Not Pig – Miss Rabbit
Mark Baker: Peppa!
Have you ever fought evil with a sword? – Con age 4
Phil Davis: Yes – it was fun!
Neville Astley: Never! I hunt evil with a spoon
Mark Baker: No, but that is a great question!!!!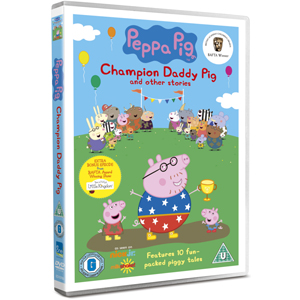 Peppa Pig: Champion Daddy is out on DVD 26/3/12 and Peppa's Treasure Hunt Live is touring the country now: CLICK HERE FOR THE REVIEW