Aardman: Shaun the Sheep the Movie – Kidz talk to Directors Mark Burton and Richard Starzak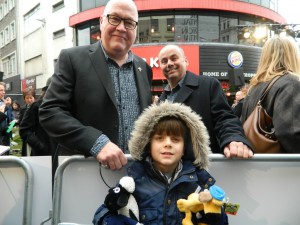 What does it feel like being part of Aardman? Con age 7
Mark Burton – Actually you should talk to 'Golly' (Richard Starzak's nickname) because he's employee number one!
Richard Starzak – it feels like a national institution. It's weird to have watched it evolve – because when I joined thirty years ago, it was very much a college industry. I thought it would be fun to do for a while – I didn't imagine staying there forever.
The first thing I saw was Morphs head on a table. Dismembered from his body which kind of shocked me (laughs).
But Pete and Dave from word go – they we're very determined to do the absolute best work. I really felt I had to step up and get involved in that. Perfectionism…..kind of – but it was to make the absolute best thing they could, whether it be a commercial or a spot for the BBC. That's definitely a wave carried through the company through the years. Held then in good stead and was an influence when I joined the company.
Mark Burton – I feel a great pride. There's something about Aardman – when you tell people about Aardman, they start smiling. You feel part of that – it sounds observed, because ice been working at Aardman….Directing the film. I've got an Aardman e-mail and I'm so proud of that!
At the same time there's a responsibility with it. We felt that responsibility and we're pleased that people seem to be enjoying the film. We wanted it to sit along side all those other great Aardman movies and there was a responsibly there to do good work.
Peter Lord (Co-Founder Aardman Animation)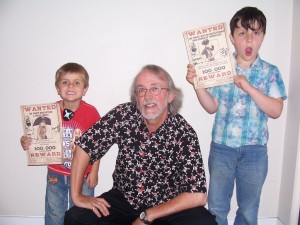 Why did you decide to take Shaun from the TV and turn him into a film star? Amy age 8
Richard Starzak – That's a lovely question. Well I think we always felt…even from the first series – Shaun had more of an emotional depth. There's one or two episodes in the first series that made people think there's a lot more to this. It's a series that's punching above it's weight.
Shaun's got a lot more to him than just a seven minuter. About four or five years ago – four years ago is when we started to take the idea seriously. I'd been going 'What about a film?!' For a number of years. He had star quality. Nick designed him – he had the perfect silhouette. You can recognise most famous characters from their silhouettes. Shaun's definitely got that. It just felt like it was right to tell a big story with him.
Nick Park (Shaun the Sheep Creator)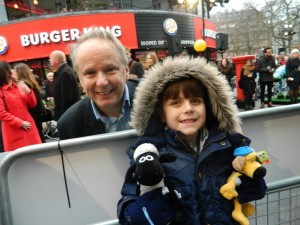 We know a clay-motion film takes a long time to make, but our Daddy visited the set and was told that a days filming would amount to about 2 and 1/2 seconds of screen time, is that true? We would like to believe our Daddy!! Lara age 10
Mark Burton – Yes it is true. Your Daddy doesn't lie (Laughs).
Richard Starzak – He's a lier…it's rubbish! (Laughs)
Mark Burton – In the new series….there's a difference between the different genres – it was very quick for an animation film but it was about two seconds a day, two minutes a week. For the series it's a bit quicker than that.
Richard Starzak – Yeah…it doesn't sound a lot. But it's still a lot faster than other Aardman feature films. It's worked our on the basis – like in a film like 'Pirates' you would block out a shot, which means you'd test…move the character and then practice a camera move. Shaun was a lot quicker than that – on average, two and a half seconds per day is a lot quicker than one second a day which is what Wallace and Gromit and Pirates produced.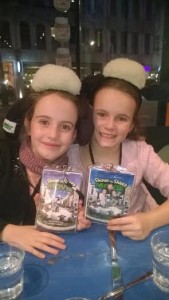 How long did the film take to make? Amy age 8
Mark Burton – Well there's different parts of the film. The development process – where we think of the story. That takes a long time. Then we had the pre production process where we designed the characters and work with the story board artists and creat an animatic. A two dimensional version of the film. And then the actual version of the film was nine months. You put all those parts together it's probably about three years. Which again is very quick for an animation.
Richard Starzak – What they probably meant was the studio floor stuff. That was probably around ten or eleven months.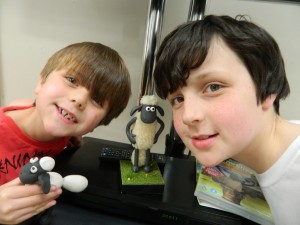 We noticed Shaun the Sheep had been awarded a Blue Peter badge, how did he win that? Lara age 10
Mark Burton – That's a great question!
It's actually the farmers badge. It's the Farmers bag that Shaun grabs – which is why it's got the carte player in it and that.
There's a good story for why the Farmer got the Blue Peter badge and we haven't got into that.
Richard Starzak – Yeah. Maybe that's a film idea?
Mark Burton – Yeah. Perhaps he was the one that vandalised the garden? (Reference to a news story many years ago when vandals broke into the Blue Peter garden)
Richard Starzak – (Laughs) He just went over in his plough and….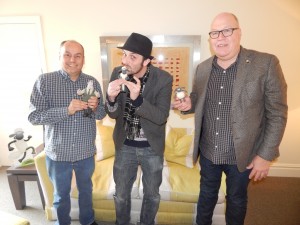 Shaun has a Blue Peter Badge – What's the most exciting thing you've ever seen on Blue Peter? Hag age 10
Mark Burton – It's rather sad and doesn't show me in a good light – but when the elephant had a pop on Blue Peter. It's a classic!
Richard Starzak – That was the first thing that sprung to mind for me too.
Mark Burton – I used to have a show on it called 'Punky Brewster'. It was like a little TV show and like a 2D animation back in the sixties.
Richard Starzak – I used to like with John Noaks when they pushed him out or an aeroplane. He was genuinely terrified. I thought he was a really good actor because he looked genuinely terrified and I read an article he wrote a few years ago. He said he hated it. He was put through absolute hell for other people entertainment. Those screams we're genuine.
Mark Burton – By the way…what a great show. They do have great talent.
We loved the fact that we knew what was going on in the film without a word spoken but if Shaun could speak what would his first words be? Amy age 8
Mark Burton – Hey!
Richard Starzak – Mine! (Both Laugh)
Mark Burton – I think he would…..that's completely floored me that question. That's Kidz questions for you.
Richard Starzak – It's a good question though.
Mark Burton –It is a very good question. I suppose….Come on guys let's go have some fun!
Richard Starzak – That's several words
Mark Burton – Yeah! That's several words – but that's where he's coming from.
Richard Starzak – I think it would be 'Oi!' (Laughs)
Was there ever a time the humans in the movie were going to speak? Lara age 10
Mark Burton – We knew the film would be dialog free from the beginning. But we knew that would be difficult. And as a back up we discussed if the characters in the city could speak. But then we didn't need it. We found they could make sounds and told us as much as we needed to know. We never actually went that far.
Richard Starzak – I'm grab we didn't. There's a joke we had and I'm glad we didn't use but it's actually quite funny. The Farmer was talking to the Doctors and say "wad a wey da ye…" (Farmer talk). And the Doctor says "I don't understand a word he said?!"
It would have been funny – but would have broken the rules.
Like Wallace and Gromit, please say that there are plans for a sequel?!! Amy and Lara
Mark Burton – Yeah, we hope so.
Richard Starzak – Would absolutely love to. It's dependant on how well the film does but we've already got some ideas up here (Points to his head) for a possible sequel.
Aardman: Shaun the Sheep The Movie out on DVD, Blu-Ray and Digital Download 1/6/15 – Review CLICK HERE!!!