Bex talks Favourite Song on the new Album, Musical Instruments and if Aliens exist with Andy and the Odd Socks!!!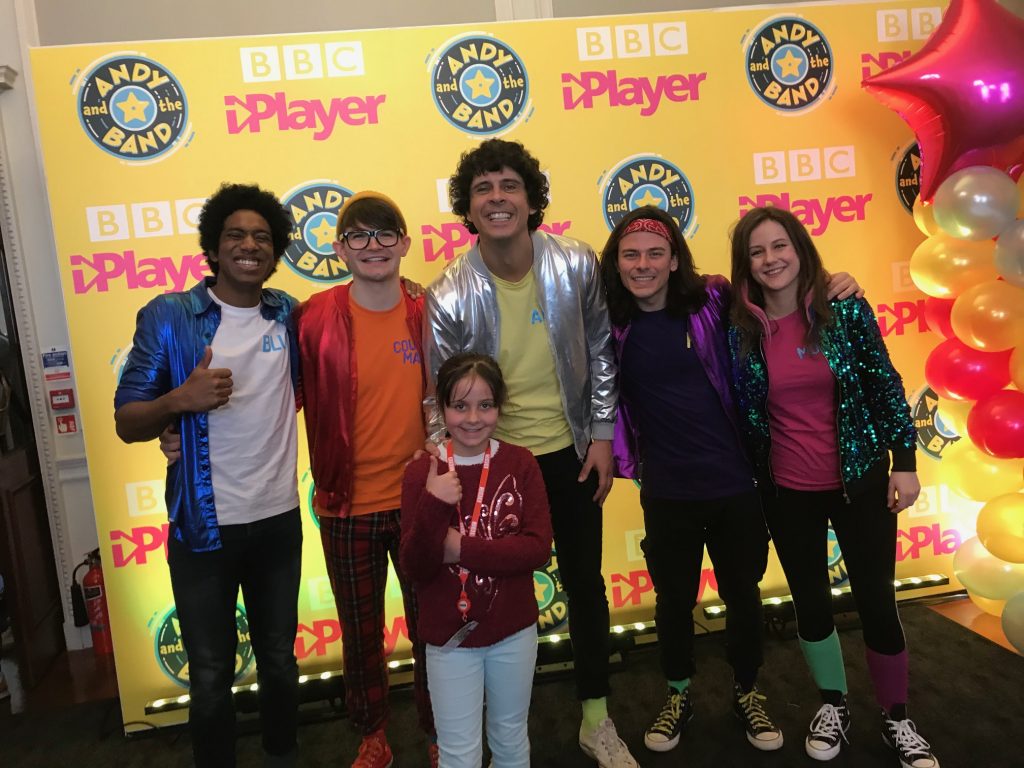 What's your favourite song on the new album and why do you like it? Bex age 8
Andy Day – Rinky Dinky Doo because the song was inspired by my little girl who we call 'Dinky Doo'
Cousin Mac – Either Rinky Dinky Doo or Noisy Neville. But Artist and Laughing in the Face of Fear are close 3rd and 4th!
Blu – I'm An Artist
Moxy – For its message – Save all the Animals – because nature is wonderful and every animal's life is precious (spot the band vegan).
To play – I really like Noisy Neville & can't WAIT until we play it live!
Rio – Favourite Song is "Noisy Neville", love how much it rocks!
What song took the longest to write and perform and why did it take so long? Bex age 8
Andy Day – Choose Respect. It was written for 'Oddsocks Day' so we wanted a cool funky song which had the underlined message of choosing to be respectful to each other.
We didn't want it to be a serious song but still have the impact for the message from Antibulllying alliance (the charity I am a patron for and whom we started 'Oddsocks day' with a view to raise awareness to bullying.) which was 'Choose respect'.
We wrote three songs before Choose Respect that were not quite right, but we're really pleased with the outcome on the finished song!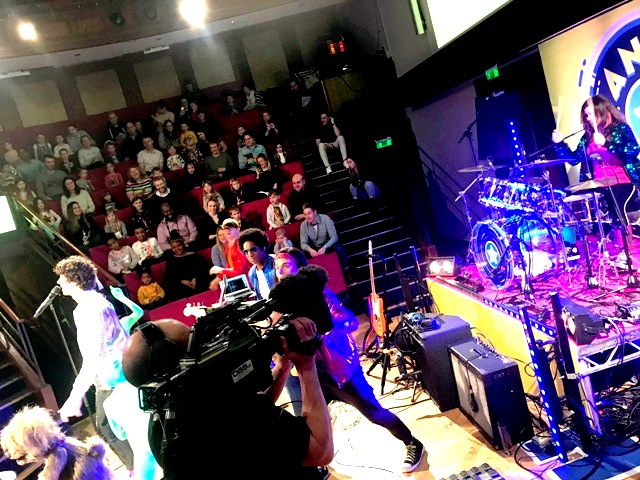 Have you been able to play music together during the lockdown and if yes how did you do it? Bex age 8
Andy Day – Yes we have virtually played together over Zoom and online gigs. While it was so much fun it certainly isn't the same as playing live all together.
We have worked together for almost four years now so when we play live we know what each other is doing and going to do and get a real feel for everyone playing. So it's safe to say we can't wait to get back to stage and perform for the Oddsocks fans live on tour!
What's your favourite instrument and how many instruments can you play? Bex age 8
Andy Day – I can play Ukulele and guitar at a basic level but am concentrating on getting better during this lock down. I love singing and tend to leave the other instruments to the rest of the band as they are so awesome and talented!
Cousin Mac – It changes all the time. But right now I think it's my Acoustic Guitar. I play Guitar, Drums, Ukulele, Bass, Trumpet and of course Keys!
Blu – Keys for both!
Moxy – Drums of course!! (I can't believe Blu sold his own instrument out like that!)
I also play guitar and a bit of bass/keys. Also – for panto last year my official second instrument was the recorder! I'm dying to play it at one of our AATOS gigs!
Rio – Favourite instrument is drums, I could listen to drums on their own without anything else all day. In fact, I do often just watch videos of Dave Grohl drumming his drum parts in the studio. I can name all Foo Fighters songs just by listening to their drum parts!
I also play drums, bass, keys, saxophone, ukulele, cavaquinho, clarinet (very badly) and trumpet (very badly). And I'm a singer, which I count as an instrument because it takes just as much practice as any other.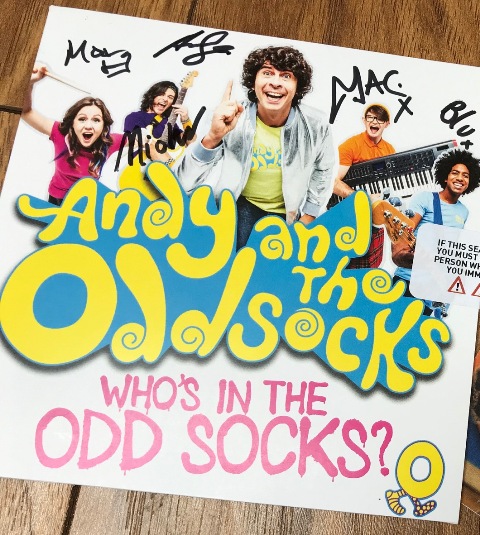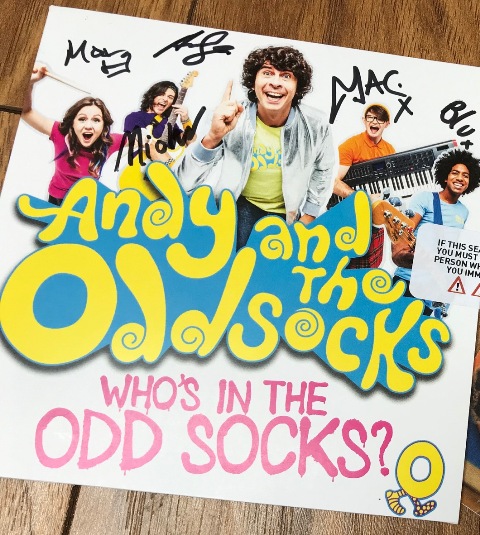 Is the new album coming out on vinyl and what colour vinyl do you think it should be and why? Bex age 8
Andy Day – Before the virus hit, we were due to launch a 7 inch vinyl of our 'Happy Birthday song' and a B side track too, which I'm hoping will still happen.
In terms of the album we have no immediate plans, but I would certainly love that to happen!
The colours would have to be the iconic Oddsocks colours which would be yellow and blue (maybe a few more colours too, you can never have enough colour in my opinion).
Do you think Aliens really exist? Bex age 8
Andy Day – Of course they do, me and the Oddsocks have seen them. You can see for yourself if you watch our new show on BBC i player 'Andy and the Band.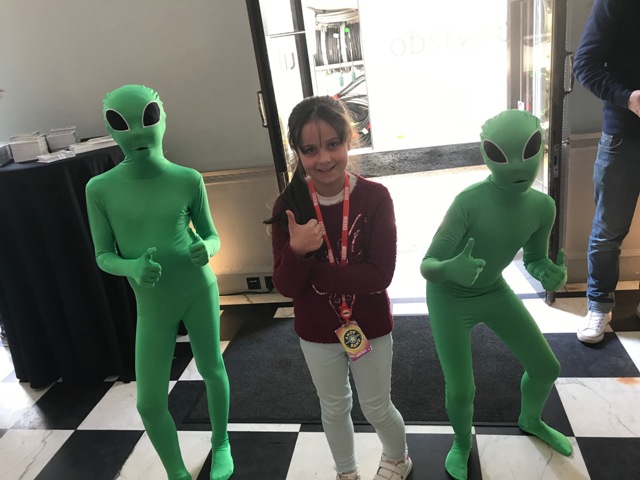 Andy and the Odd Socks – Who's in the Odd Socks? Out 22/5/20 review by Bex CLICK HERE!!!