BAFTA Kids Awards Sunday 26 November 2017 – For all the nominations CLICK HERE!!!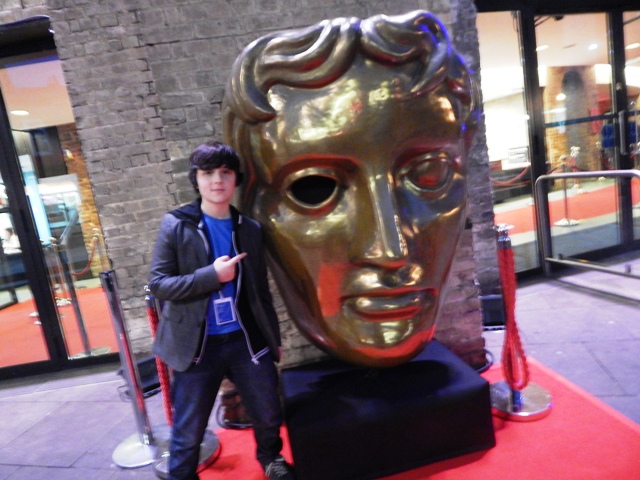 Con at Last years BRITISH ACADEMY CHILDREN'S AWARDS 2016!!!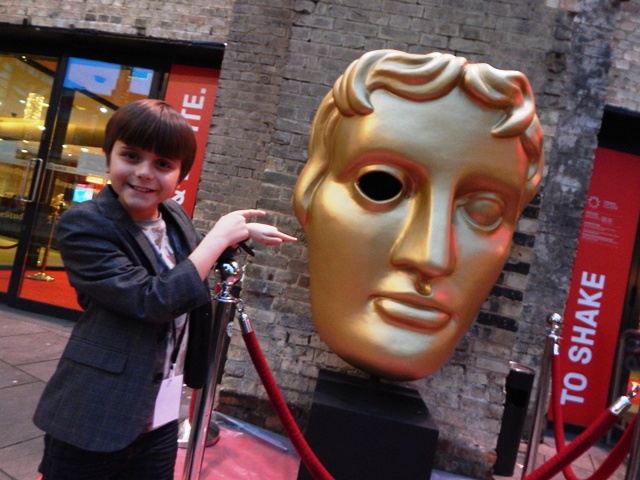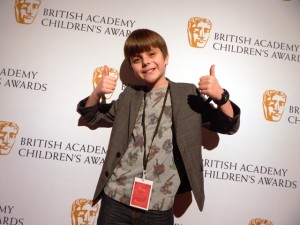 What's the greatest prize you've ever won in any competition? Con to the stars of the BAFTA Kids Red Carpet!!!
Con with The Power Puff Girls!!!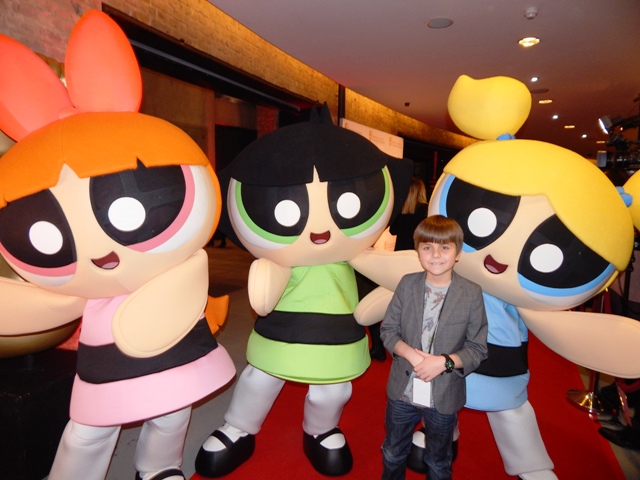 Ruby Barnhill (The BFG)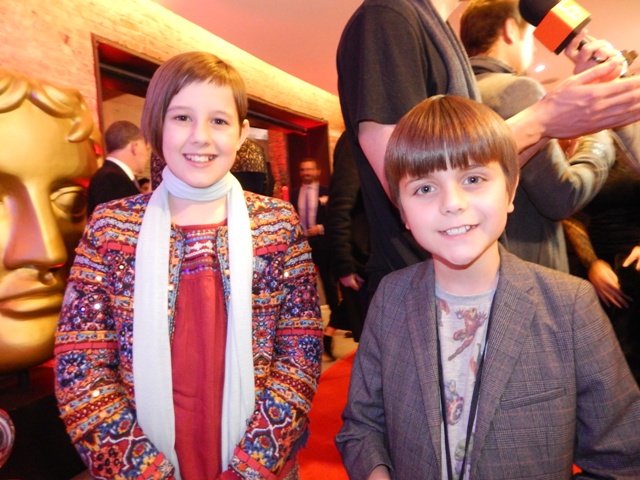 Caspar Lee (Mega Youtuber)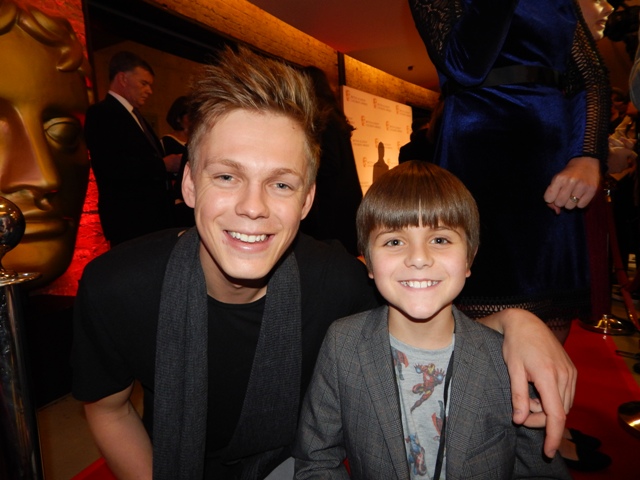 Floella Benjamin (Legendary Children's TV Presenter)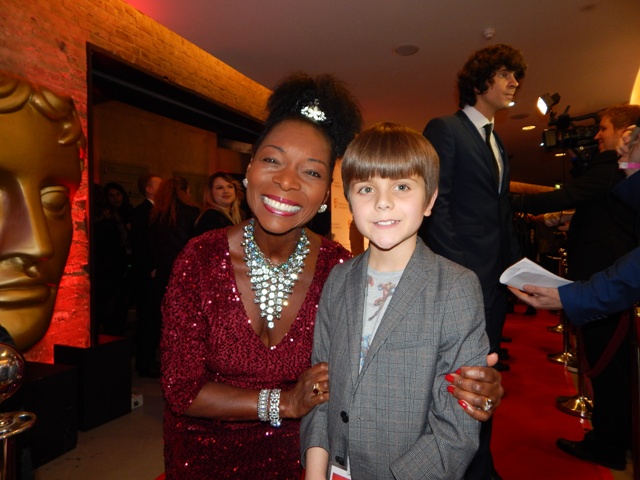 Janet Healy (The Secret Life of Pets, Sing, Minions and Despicable Me Trilogy Producer)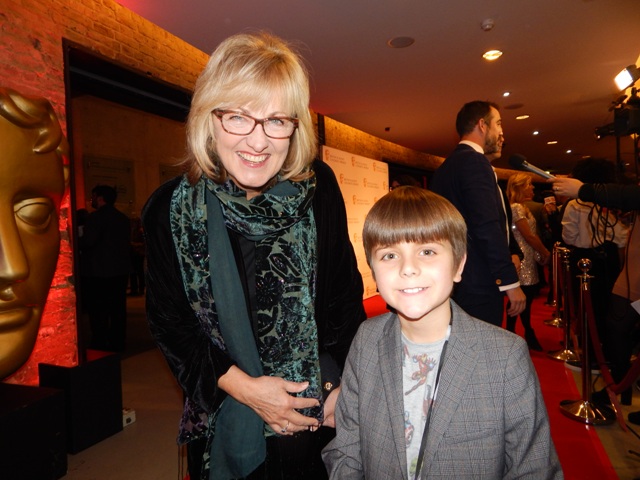 Andy Day (CBeebies)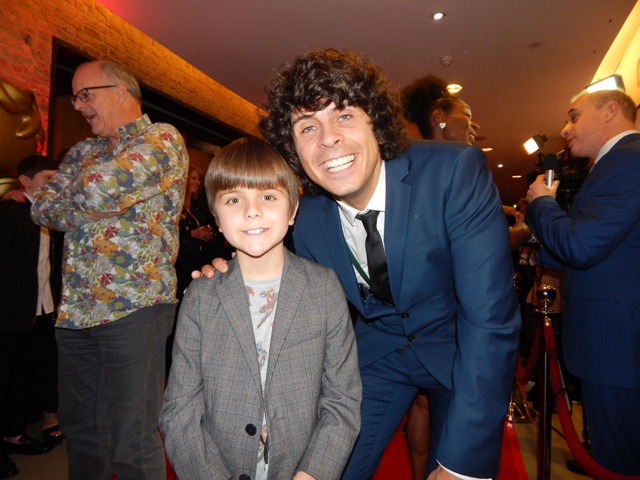 Chris Riddle (author and Illustrator)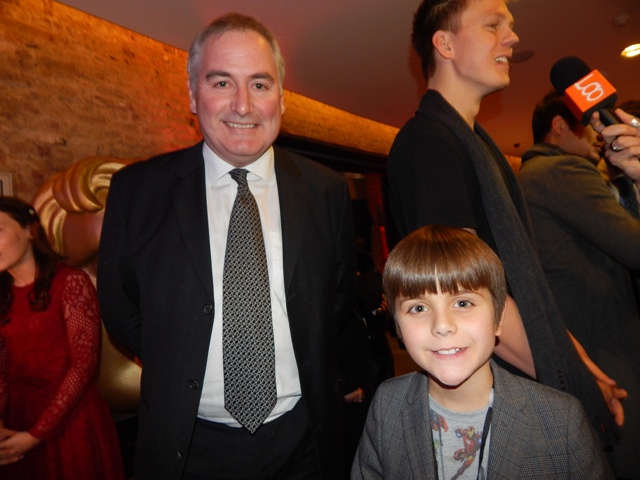 Georgia Lock and Ben Radcliffe (Evermoor and Cuban Fury)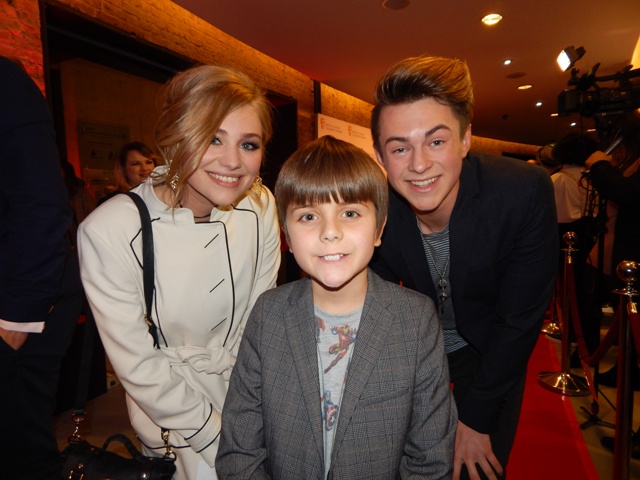 Dr Xand and Dr Chris Van Tulleken (Operation Ouch)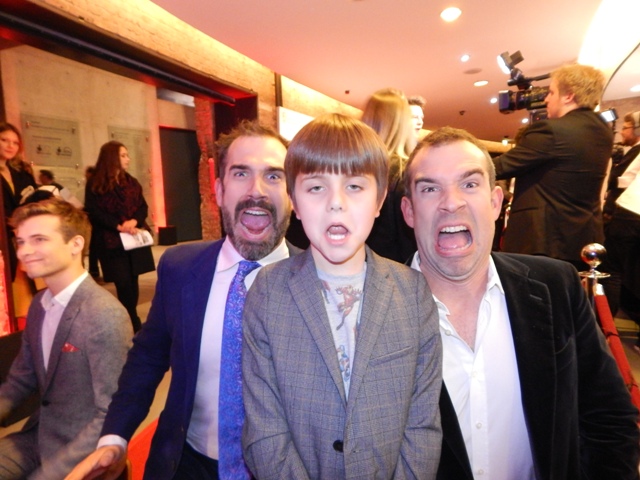 Oliver Dench and Rameet Rauli (Ride)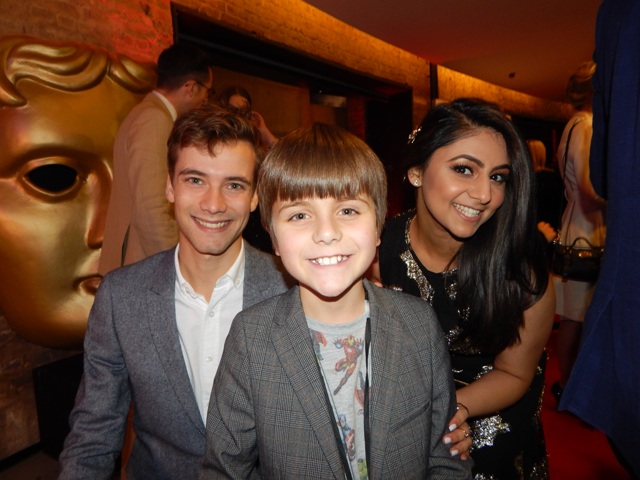 London Hughes (Scrambles)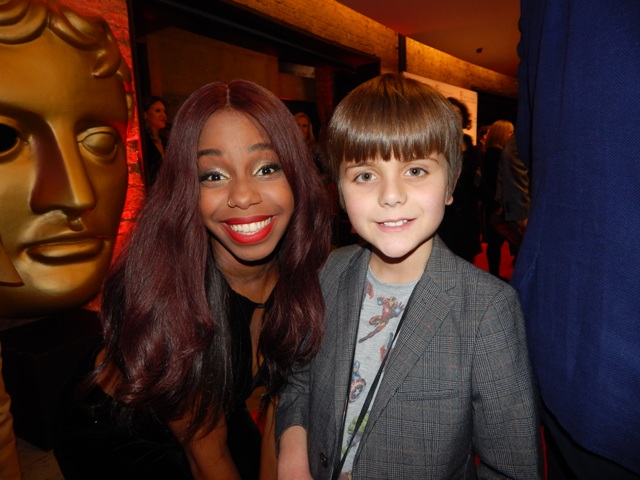 Nigel Clarke (Disney Channel, Nickelodeon and CBBC TV Presenter)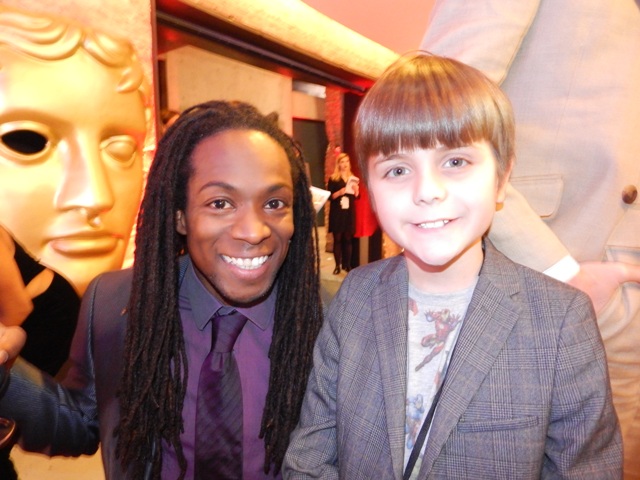 Ben Shires (Officially Amazing and MOTD Kickabout)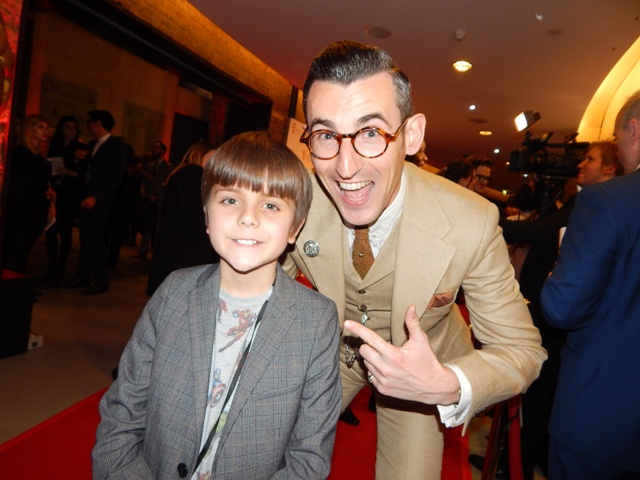 Tom and Giovanna Fletcher (Authors)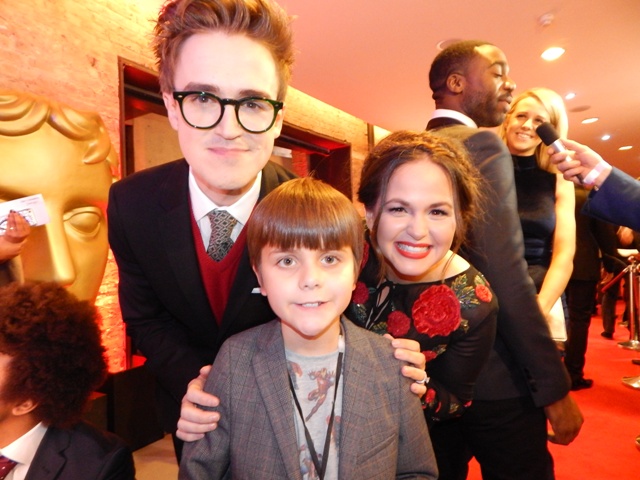 Radzi Chinyanganya (Blue Peter)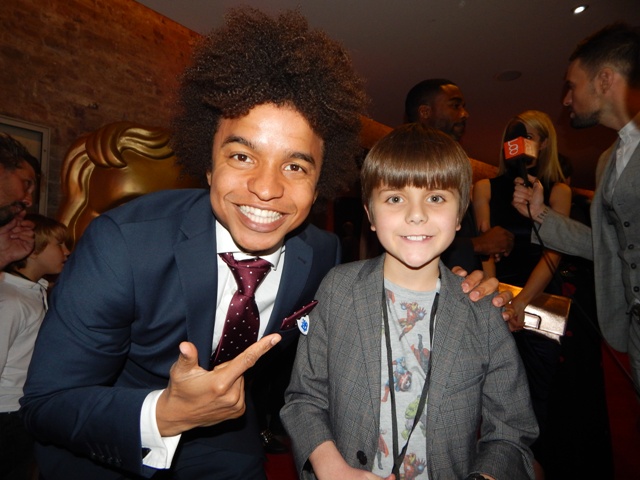 Katie Thistleton (CBBC Presenter)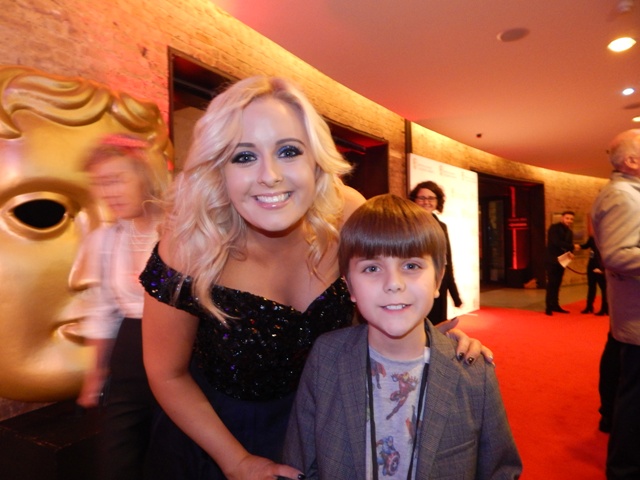 Isobel Clifton (Hetty Feathers)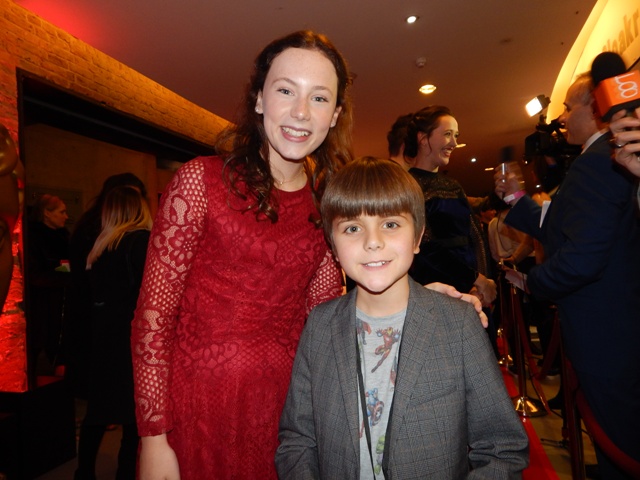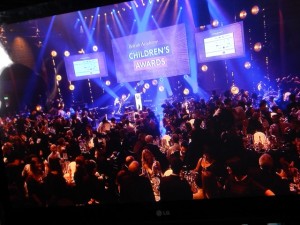 THE WINNERS!!!
CHANNEL OF THE YEAR
CARTOON NETWORK
CBBC
CBEEBIES
TRUETUBE
Animator & storyboard artist Peter Western receives the Special Award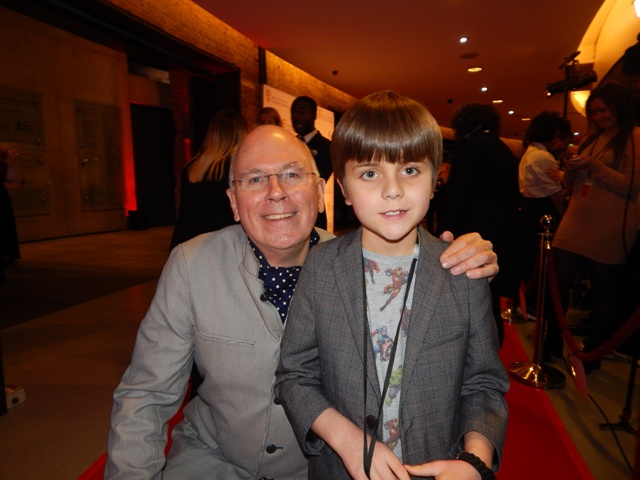 Bex with CBeebies Controller Kay Bendow!!!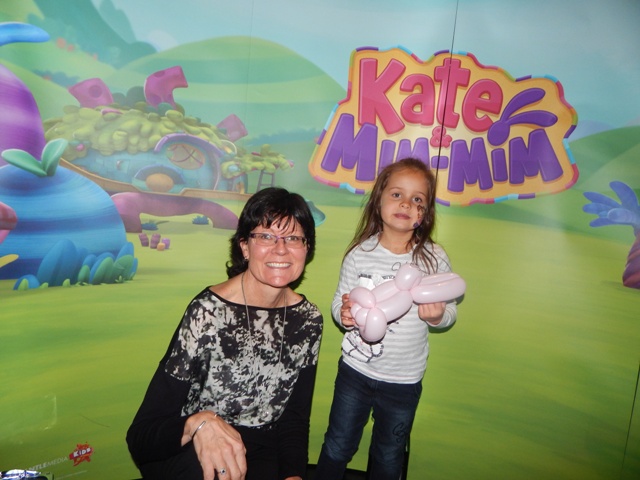 COMEDY
DIDDY TV Dez McCarthy, Julian Kemp, Steve Ryde – CBBC Production/CBBC
THE DOG ATE MY HOMEWORK Production Team – CBBC Production/CBBC
HORRIBLE HISTORIES SPECIAL: SENSATIONAL SHAKESPEARE Production Team – Lion Television/CBBC
SO AWKWARD Production Team – Channel X North/CBBC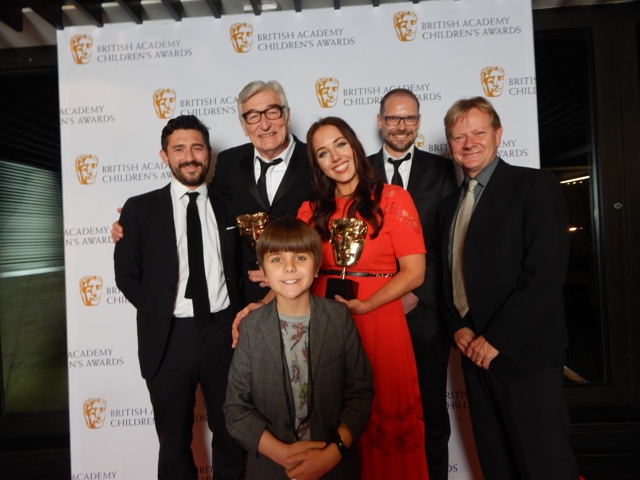 DRAMA
THE DUMPING GROUND Emma Reeves, Phil Leach, Sallie Aprahamian – CBBC Production/CBBC
HETTY FEATHER David Collier, Delyth Thomas, Emma Reeves – CBBC Production/CBBC
REFUGEE Production Team – CTVC Ltd/TrueTube
ROCKET'S ISLAND Lucy Martin, Paul Cotter, Nick Leather – Lime Pictures/CBBC
ENTERTAINMENT
ART NINJA Production Team – Dot To Dot Productions/CBBC
THE DENGINEERS James Knight, Jennifer Morrison, Annette Williams – CBBC Production/CBBC
MATILDA AND THE RAMSAY BUNCH Paul Ratcliffe, Colin Steele, Matilda Ramsay – One Potato Two Potato/CBBC
SAM & MARK'S BIG FRIDAY WIND-UP Sid Cole, Steve Ryde, Dave Skinner – CBBC Production/CBBC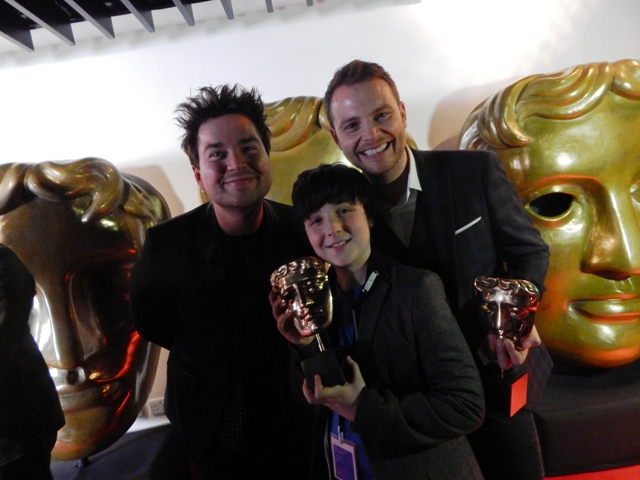 FACTUAL
THE BOY ON THE BICYCLE (MY LIFE) Production Team – Drummer TV/CBBC
BLUE PETER – THE WALK THAT CHANGED THE WORLD Zoe Thorman, Matthew Peacock, Andrew Hassall – CBBC Production/CBBC
NEWSROUND – HIROSHIMA SPECIAL Georgina Bowman, Leah Boleto, Will Pilkinton – CBBC Production/CBBC
OPERATION OUCH! Production Team – Maverick Television/CBBC
FEATURE FILM
THE GOOD DINOSAUR Peter Sohn, Meg LeFauve – Pixar Animation Studios/Walt Disney Pictures/Walt Disney Studios Motion Pictures
THE JUNGLE BOOK Jon Favreau, Brigham Taylor – Walt Disney Pictures/Walt Disney Studios Motion Pictures
STAR WARS: THE FORCE AWAKENS J.J. Abrams, Lawrence Kasdan, Kathleen Kennedy, Bryan Burk – Lucasfilm/ Walt Disney Studios Motion Pictures
ZOOTROPOLIS Byron Howard, Rich Moore, Clark Spencer – Walt Disney Animation Studios//Walt Disney Studios Motion Pictures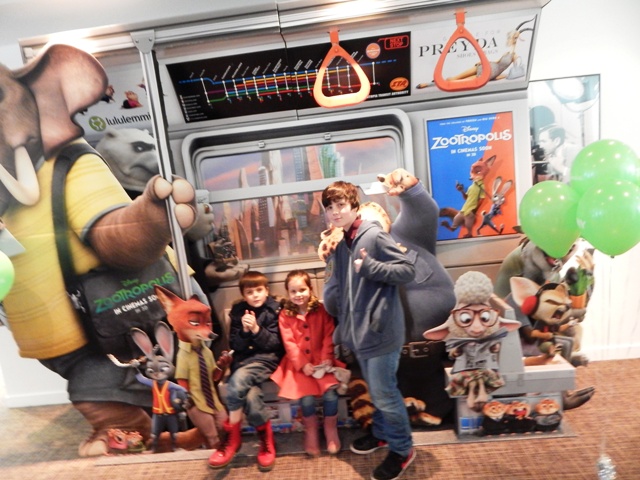 GAME
LEGO DIMENSIONS Leon Warren, James Mcloughlin, Jon Burton – TT Games/Warner Bros. Interactive Entertainment
LEGO STAR WARS: THE FORCE AWAKENS Mike Taylor, Paul Flanagan, James Norton – TT Fusion/Warner Bros. Interactive Entertainment
RATCHET & CLANK Development Team – Insomniac Games/Sony Interactive Entertainment Europe
TEARAWAY UNFOLDED Development Team – Media Molecule/Sony Computer Entertainment Europe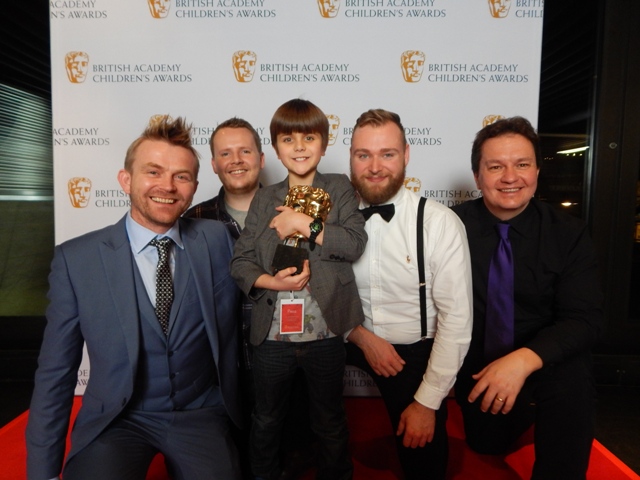 INDEPENDENT PRODUCTION COMPANY OF THE YEAR
BLUE-ZOO
FACTORY
KARROT ENTERTAINMENT
SIXTEEN SOUTH
INTERACTIVE – ADAPTED
CBEEBIES ADVENT CALENDAR AND NEW YEAR COUNTDOWN Development Team – CBeebies Production
*GET WELL SOON HOSPITAL APP Juliet Tzabar, Anne Brogan, Ranj Singh – Plug-in Media & Kindle Entertainment
PJ MASKS OFFICIAL WEBSITE Development Team – Entertainment One/Kids Industries
STAR WARS ARCADE Development Team – Disney and Goodboy Digital
Con with Dr Ranj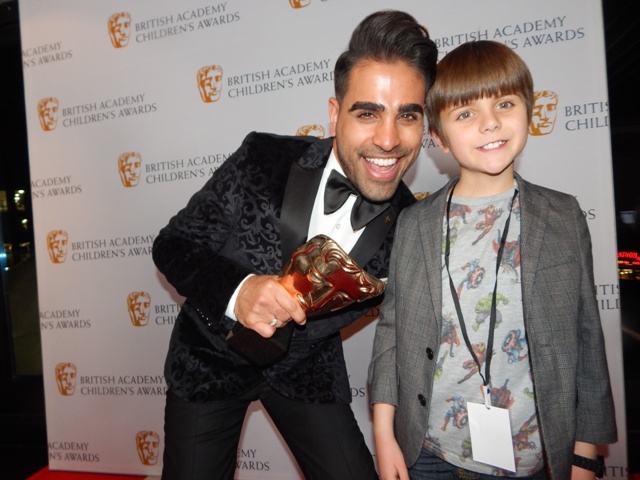 INTERACTIVE – ORIGINAL
BLINKIES Development Team – Lost My Name
DIXI:3 – GAME OF DIXI Dan Berlinka, Nina Metivier, Melanie Stokes – Kindle Entertainment Ltd
DOGBISCUIT Development Team – Blackstaff Games
SECRET LIFE OF BOYS Development Team – Zodiak Kids Studios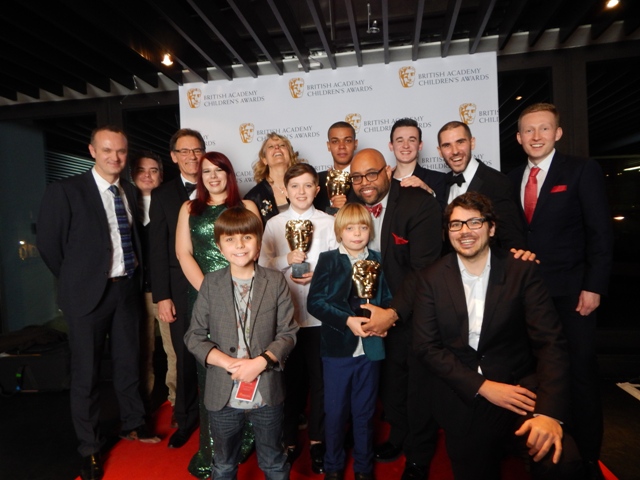 INTERNATIONAL
NOWHERE BOYS Beth Frey, Tony Ayres, Peter Salmon – Matchbox Pictures/CBBC
PETER RABBIT Production Team – Nick Jr., Silvergate Media and Frederick Warne & Co Limited, in association with Brown Bag Films/CBeebies
SPONGEBOB SQUAREPANTS Production Team – Nickelodeon/Nicktoons
WE BARE BEARS Daniel Chong, Manny Hernandez, Carrie Wilksen – Cartoon Network Studios/Cartoon Network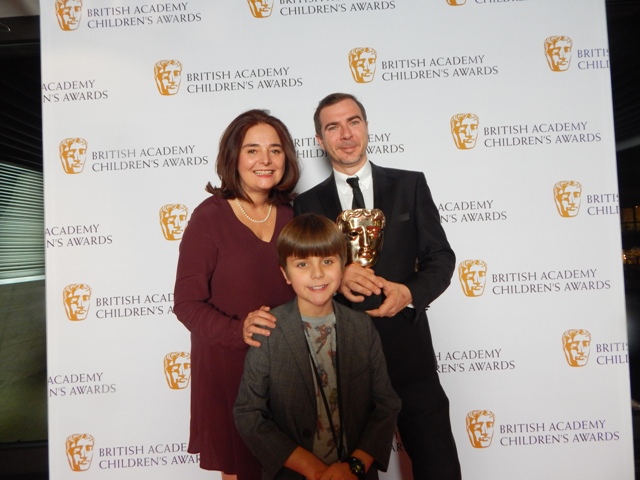 LEARNING – PRIMARY
AN INTRODUCTION TO EXETER CATHEDRAL – Robert Edmonds, Andrew Chater, Paul Trainor – NRG Digital
I CAN'T GO TO SCHOOL TODAY Production Team – Mosaic Films for BBC Learning
SEARCH IT UP! Production Team – Azoomee & ArthurCox
SHAKESPEARE IN SHORTS Production Team – Fettle Animation/The Firm Music Group/BBC Learning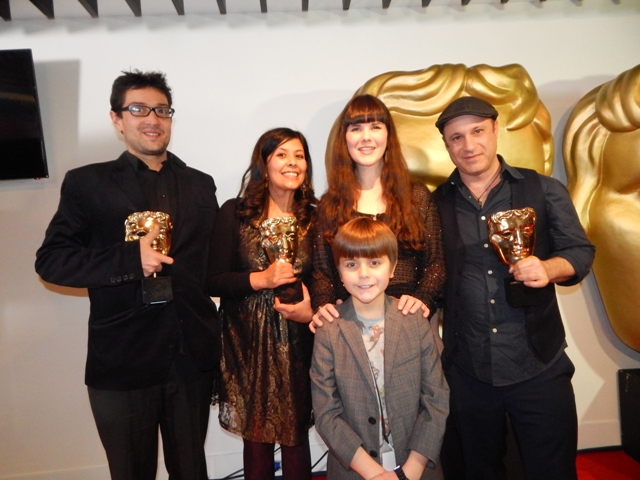 LEARNING – SECONDARY
KATIE Production Team – CTVC Ltd/TrueTube
SLEEPING LIONS David Barnes, Louise Lynch, Neil McKay – Libra Television and David & Goliath for BBC Learning/BBC Two
TEN PIECES II Production Team – Somethin' Else and BBC Music Television for BBC Learning/BBC Two
WALTER TULL – BRITAIN'S BLACK OFFICER Michael Davies, David Cortese – Off the Records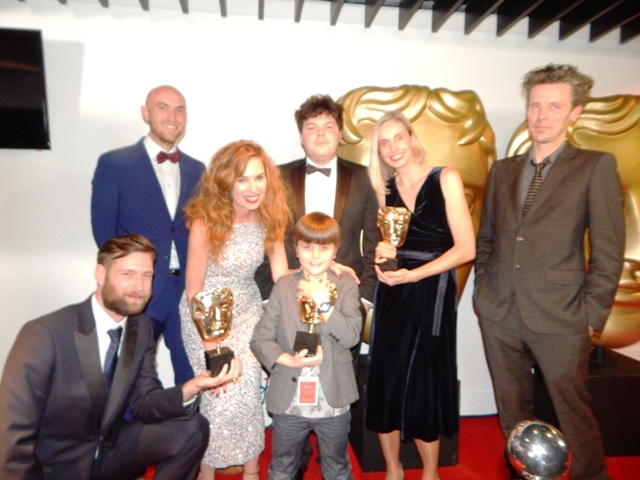 PERFORMER
NICK JAMES as Hank Zipzer in Hank Zipzer – CBBC
TOM STOURTON as William Shakespeare in Horrible Histories Special: Sensational Shakespeare – CBBC
JUSTIN FLETCHER as Mr Tumble in The Tale of Mr Tumble – CBeebies
LEONA VAUGHAN as Jana in Wolfblood – CBBC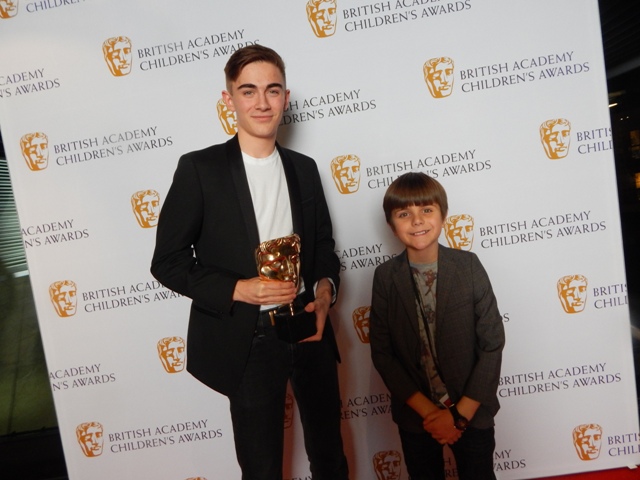 PRESCHOOL – ANIMATION
CLANGERS Production Team – Coolabi Productions, Factory, CBeebies/CBeebies
GO JETTERS Adam Redfern, Joanne Allen, Tony Reed – CBeebies Production/CBeebies
HEY DUGGEE Grant Orchard, Janine Voong, Sue Goffe – Studio AKA/CBeebies
SARAH & DUCK Production Team – Karrot Entertainment/CBeebies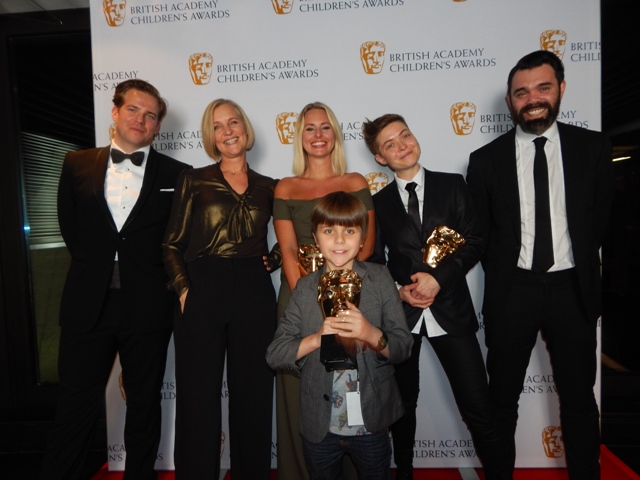 PRESCHOOL – LIVE ACTION
ANDY'S PREHISTORIC ADVENTURES Production Team – BBC Natural History Unit/CBeebies
SOMETHING SPECIAL Claire Taylor, Helen Sheppard, Oli Jones – CBeebies Production/CBeebies
TELETUBBIES Production Team – Darrall Macqueen Limited, DHX Worldwide Limited/CBeebies
TOPSY AND TIM Production Team – Darrall Macqueen Limited/CBeebies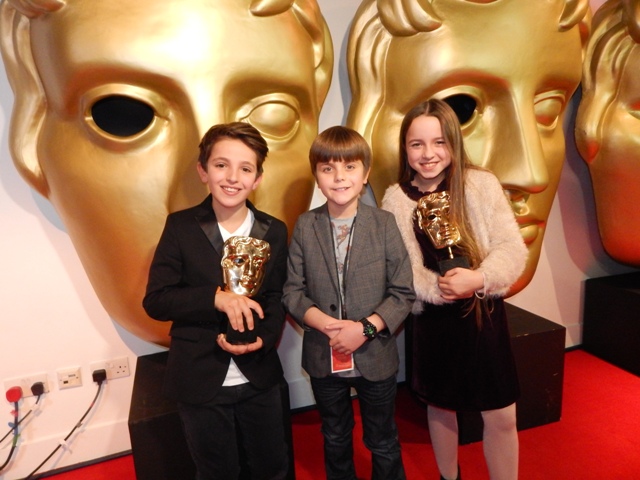 PRESENTER
DR. MAGGIE ADERIN-POCOCK CBeebies Stargazing – CBeebies
IAIN STIRLING The Dog Ate My Homework – CBBC
NAOMI WILKINSON Naomi's Nightmares of Nature – CBBC
ALEXANDER AND CHRIS VAN TULLEKEN Operation Ouch! – CBBC
SHORT FORM
CITV SHARE A STORY Production Team – CITV/CITV
DRAW MY LIFE: MO'S BULLYING STORY Amy Macaulay/Helen Varley – CBBC Production/CBBC
GOOD AS GOALED Tom Gran, Martin Woolley – Wildseed Studios/Disney Channels EMEA/Disney XD
TEE AND MO: COME ON GET UP Dominic Minns, Ellie Wyatt, Nathaniel Cooper – Plug-in Media/CBeebies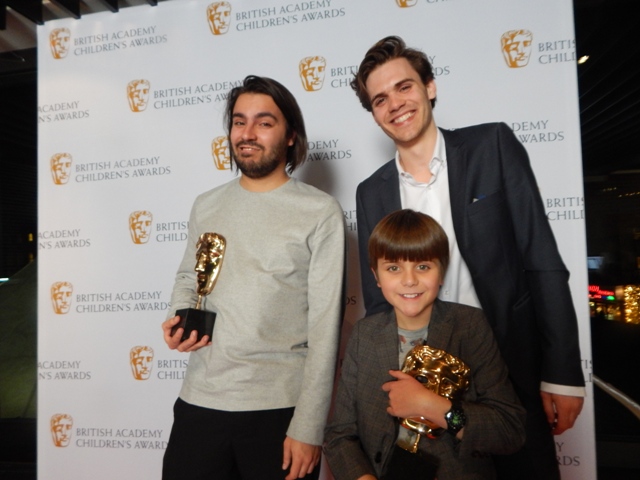 WRITER
WRITING TEAM The Amazing World of Gumball – Cartoon Network
DANIEL POSTGATE, DAVE INGHAM Clangers – CBeebies
HELEN BLAKEMAN Hetty Feather – CBBC
WRITING TEAM Horrible Histories Special: Sensational Shakespeare – CBBC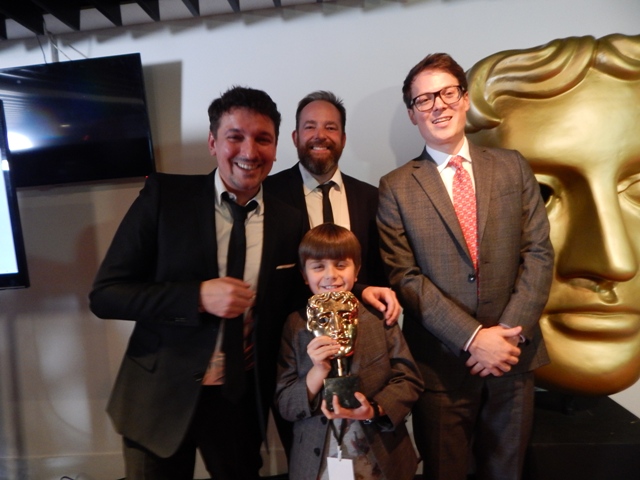 BAFTA KIDS VOTE
Film
Alvin and the Chipmunks: The Road Chip (U)
Finding Dory (U)
Hotel Transylvania 2 (U)
Kung Fu Panda 3 (PG)
The BFG (PG)
The Good Dinosaur (PG)
The Jungle Book (PG)
The Secret Life of Pets (U)
Zootropolis (PG)
TV
Horrid Henry
Jessie
Lego Ninjago: Masters of Spinjitzu
Liv and Maddie
SpongeBob SquarePants
The Dumping Ground
The Next Step
The Thundermans
Thunderbirds Are Go
We Bare Bears
Games
Crossy Road
Disney Infinity 3.0
FIFA 16
Just Dance 2016
Lego Dimensions
Minecraft
Pokémon GO
Skylanders: SuperChargers
Super Mario Maker
Lego Star Wars: The Force Awakens