CBeebies The Baby Club – Con & Bex Baby talk with Nigel Clarke!!!
What's the best thing about Babies? Con age 11
Nigel Clarke - The best thing about babies is how cute they are and how they can melt even the coldest heart. They have the power to bring people together that we need more of in the world.
Why did you want to make the TV show The Baby Club? Bex age 7
Nigel Clarke - We made 'The Baby Club' to help parents and babies learn together. We hope to help parents and carers to feel comfortable and have fun doing this. And we hope it will encourage people to go to baby clubs locally.
What is the funniest thing your Kidz ever did as babies? Con age 11
Nigel Clarke - I think this is a story that almost every parent has a similar version of and it happened with both my son and daughter on separate occasions. It's the age old story of baby getting their hands on the Sudocrem or yoghurt and spreading it all over their face and hair. I still laugh at the photos I have of this happening.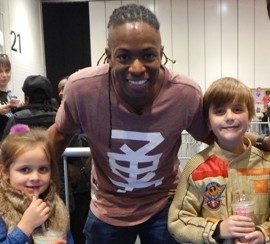 What is your favourite baby lullaby and why do you like it? Bex age 7
Nigel Clarke - I had and unconventional lullaby that I would put on for my kids when they were babies. I would put on a Bob Marley greatest hits album and often by the end of 'Stir It Up' (the first track) they would be on their way to dreamland. So that would have to be my favourite.
You're now part of The Baby Club – what other clubs have you been part of? Con age 11
Nigel Clarke - I was part of 2 clubs back at school. The Basketball club and the Athletics club, both of which were so much fun. I think clubs are a great way to enjoy shared interests with people.
Does being on The Baby Club make you want to have more Babies? Bex age 7
Nigel Clarke - It's definitely the kind of show that makes people want to have babies. Right now I'm content with my 2 kids but who knows broodiness can hit you at any time.
The Baby Club starts Monday 4th March at 10:20am and 14:20pm on CBeebies!!!