Filmed in Supermarionation – The Gerry Anderson story review by Hag
In Cinemas 10/10/14 (PG) "TOP END" 5 Stars
Parent View:
This is a really important movie perfectly depicting how innovative and inspirational Gerry Anderson was not just for Kidz TV but also Sci-Fi and the world of entertainment.
Anderson was a pioneer in creating exciting action shows for Kidz and many of the shows we watch today only exist today because he showed the world how to tell stories in such a way.
Hag has always been a fan of Anderson's Thunderbirds and loved this movie. Today's Kidz don't really know about Anderson – so I would highly recommend showing them this film and buying a few DVD's. I guarantee they will really enjoy every show – it's classic stuff. Highly Recommended!!!
Hag and Dad with the Legendary Gerry Anderson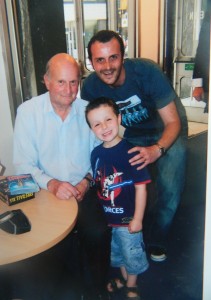 Dad with Filmed in Supermarionation Producer Tim Beddows, Driector Stephen La Riviere and Gerry Anderson's son Jamie Anderson