Win Smurfs The Lost Village Goodies!!! (Smurfs: The Lost Village previews March 25th & 26th. At cinemas March 31st)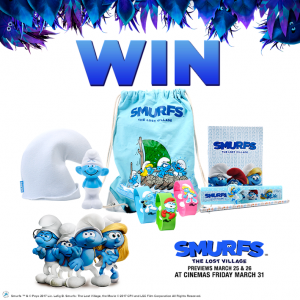 To celebrate the cinema release of Smurfs: The Lost Village, we are giving away 3 goody bags! For your chance to win, simply answer the following question:
What was the original title for the film?
1.) Get Smurfy
2.) Smurf City
3.) Smurf World

To win email your answer, name, age and address to: competitions@kidzcoolit.com
(Winners will be picked at random). Good luck!
Synopsis
In this fully animated, all-new take on the Smurfs, a mysterious map sets Smurfette and her best friends Brainy, Clumsy and Hefty on an exciting and thrilling race through the Forbidden Forest filled with magical creatures to find a mysterious lost village before the evil wizard Gargamel does. Embarking on a rollercoaster journey full of action and danger, the Smurfs are on a course that leads to the discovery of the biggest secret in Smurf history!
Cast:
Demi Lovato (Smurfette)
Rainn Wilson (Gargamel)
Joe Manganiello (Hefty)
Jack McBrayer (Clumsy)
Danny Pudi (Brainy)
with Mandy Patinkin (Papa Smurf)
ABOUT THE SMURFS
The story of the Smurfs – a property created by Peyo – started in 1958 with the creation of comic books which were later brought to both the big and small screen. Over the years, the little blue characters haven't just limited themselves to the page and the screen. They have inspired records and CDs that have sold millions of copies, entire collections of figurines and toys, and many more products. In all, more than 3,000 derived products have been produced and leading brands and companies have spread their messages worldwide with the help of the Smurfs. A multitude of new projects appear regularly, thus making the success of the Smurfs planetary!
ABOUT SONY PICTURES ANIMATION
Sony Pictures Animation produces a variety of animated and family entertainment for audiences around the world. The studio is following its worldwide comedy hits—the record-breaking monster comedies Hotel Transylvania and Hotel Transylvania 2, the hybrid live action/animated blockbusters The Smurfs and The Smurfs 2, and the mouth-watering Cloudy with a Chance of Meatballs movies—with the fully animated reboot Smurfs: The Lost Village in March 2017; the inspirational story The Lamb in December 2017;and an animated Spider-Man feature from the minds of directors Chris Miller and Phil Lord in Summer 2018. The studio, in conjunction with Aardman Animations, has produced two critically acclaimed feature films: the CG-animated family comedy Arthur Christmas; and the Academy Award®-nominated stop-frame animated high-seas adventure, The Pirates! Band of Misfits. In 2007, Surf's Up also received an Academy Award® nomination for Best Animated Feature Film. The division—whose first feature film Open Season led to a very successful movie franchise, including the upcoming Open Season: Scared Silly in Spring 2016—turned 10 in 2012. Sony Pictures Animation is a division of the Sony Pictures Motion Pictures Group.