Win the NEW TELETUBBIES – TUBBY SNOWBALL DVD!!!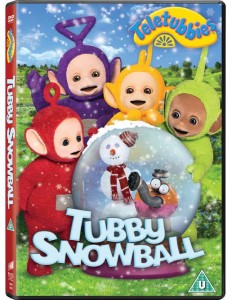 It's a cold day in Teletubbyland and snow falls on the Teletubbies! Join Tinky Winky, Dipsy, Laa-Laa and Po as they find big snowballs, dance with a snowman and watch children make a caterpillar out of snow. Contains six brand new episodes including 'Snowball'.
Episodes:
• Snowball
• Packing
• Number Four
• Flying
• Taps
• Party
Special Features include:
• "Behind the Scenes For Grown Ups: Building The Set" featurette
• "We Wish You A Merry Christmas"
To be in a chance of winning One of Three DVD's simply email your name, age and address to:
competitions@kidzcoolit.com
(Winners will be picked at random)
TELETUBBIES:TUBBY SNOWBALL is out now on DVD!!!